Waiheke Island Historical Society

P O Box 206, Ostend, Waiheke Island 1843, New Zealand
Mary Bumby's Hive of Story
Island-based entertainers Tanya Batt and Peter Forster will present their acclaimed show, Mary Bumby's Hive of Story, at the Museum of Waiheke on Saturday, 13 March 2021 at 3PM.
Weather permitting, it will be an outdoor performance. People are encouraged to bring picnic blankets and chairs to sit on. The show will proceed at Covid-19 level 1 or 2, but will be postponed at level 3 or 4.
The performance was created to celebrate the 180th anniversary of the honeybee's arrival in New Zealand and was first performed on the Mangungu Mission in the Hokianga in March 2019.
Two skeps of Yorkshire bees arrived with Mary and her brother, the Wesleyan minister Reverend John Bumby, in March 1839 at the Mangungu Mission in the Hokianga. Apparently John was fond of a bit of honey on his toast.
Mary's story has a significant connection with Waiheke and the East Tamaki, as sadly her brother John Bumby was drowned with a number of others (amongst them Waiheke residents) in 1840 in the Hauraki Gulf when the waka they were travelling in capsized. Later Mary and her husband Gideon Smales had a farm in East Tamaki, Hampton Park, and the stone church, St Johns (built in 1859 by Smales) is one of the oldest colonial buildings that remains in public service.
The show Mary Bumby's Hive of Story is a highly interactive piece of storytelling theatre that explores both Mary's story and the story of the human relationship with the honeybee. It was part of the 2020 Wellington Fringe Festival where it was performed in the Katherine Mansfield House.
To reserve tickets, E-mail Mark James at tmarkjames@yahoo.com. Tickets will also be available at the door (but cash only; we have no EFTPOS). Tickets are $20 for an individual or $30 for a family.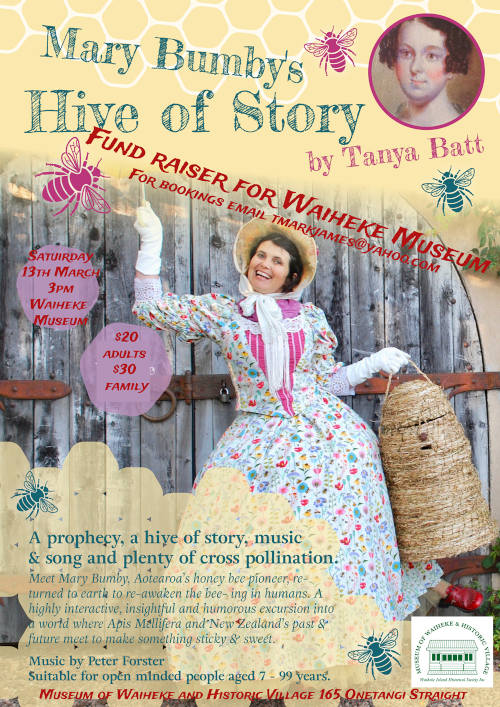 ---
This page last modified on 7 March 2021.